Normally, I'd be out knocking on doors and listening to your hopes and concerns, but this is not a normal year!   Here's a bit about my candidacy. If you have any questions, please contact me.  Thanks!
Background
I grew up just across the river in St. Paul and remember my first time in Mendota Heights for a sleepover at a friend's house. Little did I know that my husband Jimmy and I would buy that home to raise our family!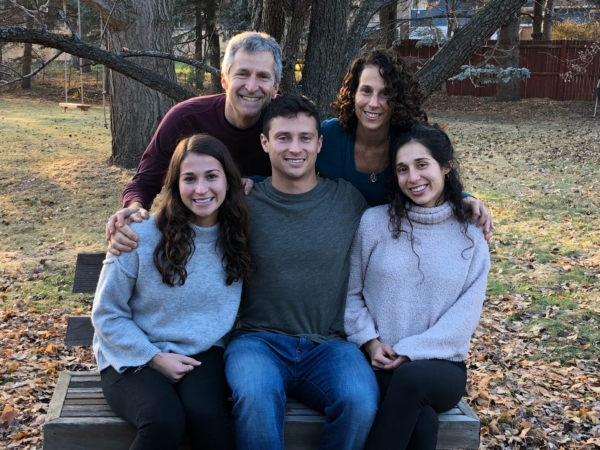 We moved to Mendota Heights almost 30 years ago because we value the location, green spaces, local businesses, fantastic schools and vibrant community. Our three children, now in their 20's, are proud Henry Sibley graduates. Over the years, we have enjoyed Mendota Heights athletics and participated in many years of Parks and Recreation programming. We appreciate our public works and value our public safety.  I am a proud graduate of the Citizen's Police Academy, and I would love to see that return!
Every day my dog Leo and I walk our wonderful trails. If you have anything you'd like to discuss, we always welcome company. I am also available to chat at your convenience, just contact me and we'll make a date! 
Qualifications
As Mendota Heights mayor, I would bring a wide breadth of skills and a unique perspective to serve our community. I have held multiple public offices and am experienced in governance, ethics and communication as well as having both professional and public experience in finance and fiscal policy. I believe that fact-based reasoning and collaboration is essential in decision making.
I have a Bachelor's degree in Mathematics from the University of Wisconsin-Madison and a Master's degree in Mathematics from the University of Minnesota. After my schooling, I spent 15 years in the private sector as an actuary specializing in health care and pensions. Later, I spent eight years as a Mendota Heights Parks and Recreation Commissioner, including two years as Chair. Currently, I serve on the West St. Paul-Mendota Heights-Eagan Area School Board (ISD 197) previously serving as Treasurer and Vice-Chair. I have held leadership positions with numerous non-profit agencies, including the Greater Twin Cities United Way on their Board of Directors and the Association of Metropolitan School Districts as Board Chair. I have represented our community on both county and state level advisory committees and have advocated and testified at our state legislature. In these various roles, I have fostered excellent working relationships at the city, county, state and national level. I look forward to utilizing those many years of business, government, non-profit and education experiences to best serve our city. 
I value integrity, honesty and transparency in public service.  As mayor, I will be visible and accessible because your voice matters.
Experience & Accomplishments
I am a problem-solver by nature, and I like to work collaboratively to make our community a better place to live.  
Our Schools
A few years ago, Mendota Elementary School was going to be closed due to budget cuts.  I was part of a group that worked tirelessly to pass a levy which kept Mendota Elementary open and a 7-period day at Henry Sibley High School.
That experience, along with additional involvement,  led to my run for ISD 197 School Board.  During my 7 years some of my responsibilities have been:
Treasurer and Vice-Chair of the School Board

Chair, Association of Metropolitan School Districts

Testifying at the Minnesota State legislature

Minnesota School Boards Association Legislative Delegate

ESSA (Every Student Succeeds Act) Assessment Committee (MN Dept. of Education)

Special Education Advisory Committee, Gifted and Talented Advisory Committee

Project Oversight Committee for $117 million bond
Accomplishments
My 7 years on the school board have been extremely busy, and so much has been accomplished – from increased enrollment,  academic and career opportunities and outcomes to increased staff and family satisfaction, we've invested in our schools and people move here for that reason.  We are financially healthy.  Due to our investments in technology, we already had the devices, infrastructure and training in place that made distance learning possible and successful!  There is so much more that needs to be done, and our strategic plan, just finalized, provides us with a direction to improve learning and teaching.
Our Community
When Marie Park was redone without any community input, I applied for a position on the Parks and Recreation Commission, where I spent 8 years, including two as chair.   As part of the commission, I worked to change the way we replace aging infrastructure, by asking kids what they wanted – and it worked!  The first park I worked on, Kensington, looks very different from our older parks, and kids love it.  This work led my effort to have student commissioners, who bring an important perspective.  One of my proudest accomplishments was introducing and workshopping the resolution to make Mendota Heights a Pollinator Friendly City.  
I have done years of volunteer work both in and around our city.  I served on the board of the Greater Twin Cities United Way for 7 years, including the executive committee.  I  was also part of the Citizens Advisory Committee on Hwy 149 and Dodd Road Overlay through the MN Dept. of Transportation, where I advocated for increased opportunities and safety for walkers and bikers along the corridor.  
I am a long-time volunteer with the city and helped plant pollinator friendly gardens, including along Victoria and the new curb cut rain gardens that prevent water runoff into our sewer system.  I walk our trails and streets daily with my dog, Leo and love seeing the amazing array of pollinators!
Email: stephanielevine4mayor@gmail.com
Phone: 651-686-0340